Dr Yam Kean Tuck Andrew
MBBS (Australia), MRCS (Edinburgh), MMed (Surgery), FAMS (Hand Surgery)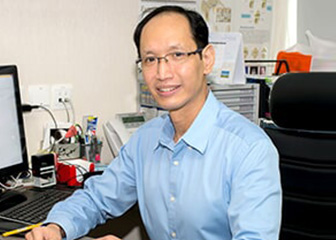 Pacific Hand Surgery
290 Orchard Road #12-01
Singapore 238859
Tel: (65) 6510 1989
Fax: (65) 6883 6967
Email: enquiry@pachealthholdings.com
Dr Yam has special interests in:
Special interests in:
– Restoring /improving function in paralysed or weak upper limb (nerve injuries, brachial plexus injury, Erb's palsy, birth or obstetric brachial plexus injury, tetraplegia, cerebral palsy, stroke, etc)
– Tendon transfers
– Nerve transfers
– Minimally invasive (endoscopic) treatment of nerve compression syndromes (carpal tunnel, cubital tunnel)
– Hand injuries and infections
Dr. Yam obtained his medical degree from the Flinders University of South Australia in 1997. He became a Member of the Royal College of Surgeons (Edinburgh) in 2003 and obtained a Master of Medicine (Surgery) from the National University of Singapore in 2004. He trained in Hand Surgery at Singapore General Hospital and National University Hospital and was accredited as a Specialist in Hand Surgery in 2007. He then trained with Professor Rolfe Birch in Peripheral Nerve and Brachial Plexus Surgery at the Royal National Orthopaedic Hospital in London, the premier centre of excellence for nerve surgery in the UK. He also completed workshops on cerebral palsy, tetraplegia and brachial plexus reconstruction at internationally renowned centres in Taiwan, France and Switzerland. During his tenure as consultant in the Dept of Hand Surgery, Singapore General Hospital, Dr Yam was awarded several awards for health service quality and teaching excellence. He has published more than 30 scientific articles covering a wide spectrum of hand and nerve disorders in international journals and textbooks. Several of his research projects have won awards at the Singapore Society for Hand Surgery Annual Scientific Meetings. Dr Yam has been invited to speak and demonstrate at hand surgery and brachial plexus courses locally and internationally. He is also a well-regarded regular discussant on LinkedIn's Hand Surgery International, the largest international online community of hand surgeons.
Dr Yam spends 2-3 weeks every year operating on patients and training surgeons in developing countries such as Cambodia and Sri Lanka.
Dr Yam's other interests include philosophy, meditation and nature photography
Specialties
Hand Surgery
24 hr Emergency Care for Hand Injuries
Our team of hand surgeons are rostered to be available to tend to any acute injuries of the hand and wrist. These will range from relatively minor crush injury of the fingertips to more complex wounds affecting underlying tendons , nerves and arteries, to complete amputations of limbs. We are equipped to perform replantation surgery round the clock.
Immediate Hand Surgery Care
Many of the trauma to the upper limb require urgent attention. Early reduction of finger and wrist fractures minimizes pain and deformity. Early attention to hand infections will minimize tissue loss and preserve function. You will be able to see a hand surgeon in Hand Surgery Associates (HSA) on short notice as we understand the urgent nature of hand conditions.
Comprehensive Hand Surgery Care
The complete range of treatment options for hand conditions is available at Hand Surgery Associates. Kindly refer to our section under symptoms for the specific conditions. Our treatment process always starts with a detailed history and clinical examination before our hand surgeons will recommend individualized treatment for each patient. Many of the hand conditions are treated conservatively with activity modification, therapy or medication. Surgery can be the best option for some instances and our aim is to help you understand your diagnosis and achieve the best outcome.
This important aspect of hand surgery involves guided mobilization for hand surgery patients and the use of protective splints for rehabilitation. Our hand surgeons look after the rehabilitation of their patients and you will be referred to therapists when required.
Prosthesis complete the range of expertise a hand surgery service will provide. They improve the body image of the patients with deformities.