'Why snoring is more than just an annoying sound?' by Dr Gan Eng Cern @ NTUC Centre
January 11, 2018 |
7:00 pm to 9:00 pm |
NTUC Centre, One Marina Boulevard, Level 7, Room 701 |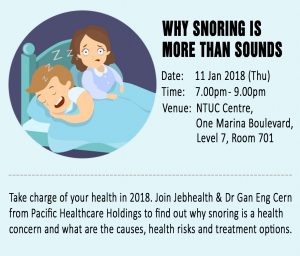 Take charge of your health in 2018. 
Join Jebhealth & Dr Gan Eng Cern – ENT & Sinus Surgeon from Pacific Healthcare Holdings to find out why snoring is a health concern and what are the causes, health risks and treatment options.
Topic: Why snoring is more than just an annoying sound?
Date: 11 Jan 2018 (Thursday)
Time: 7.00pm – 9.00pm
Venue: NTUC Centre, One Marina Boulevard, Level 7, Room 701
Click on the link below for onine registration and mark your calendar now! 

https://goo.gl/6GJbwu