Pacific Healthcare Nursing Homes
Pacific Healthcare Nursing Home was purpose-built to meet the needs of our elderly. Our homes are designed to provide residents with a comfortable and safe environment where they can rest, recover and rehabilitate.

Our team of dedicated nurses and care staff are compassionate, hardworking and experienced. They share a common goal of engaging our seniors and help them live actively and age joyfully.
| | |
| --- | --- |
| | Our Vision |
| | To deliver patient-centric care based on our core values of care, compassion and medical excellence. |
| | |
| --- | --- |
| | Our Mission |
| | To maintain and improve the quality of life for our residents by serving them with diligence and professionalism. |
| | |
| --- | --- |
| | Our Motto |
| | To Share  l   To Serve   l    To Support |
Caring for Our Elderly
Our parents and grandparents are very important to us and we want the very best care for them, preferably at home. However, when their health deteriorates, we want to ensure that they receive the best possible round-the-clock attention.
Care in Our Nursing Home
Physical, Mental and Social Well-being
Our nurses are trained to assist the elderly in daily tasks such as hygiene and bathing and ensure that they have proper nutrition. Our physiotherapy assistants also help in post-stroke recovery. Our staff engage the seniors in activities like arts and craft, helping them to remain mentally alert. Living with other seniors also ensure that they remain socially connected, enriching their lives.
Our Services
We provide a wide range of services including care for those who are bedridden, or who have limitations in performing activites of daily living. We welcome short-term convalescent and respite care, post-surgery step down care, as well as long-term stay and rehabilitation.
Our Capabilities
We are able to manage:
• Patients requiring tube-feeding
• Patients requiring palliative care
• Patients with dementia
Our Strengths
• 12 years of caring for the elderly
• Spacious and hygienic environment
• Well-trained and experienced care staff
• Integrated Active-Aging Programmes
• Conveniently located
Our Facilities
We have a comprehensive range of equipment to assist in the care of the elderly including:
• Dementia-friendly facilities
• Comfortable and well-ventilated wards
• Shower trolleys for bed-bound residents
• Non-slip flooring and safety rails in toilets
• Emergency-call buttons in wards and bathrooms
• Physiotherapy equipment
• Activity area for communal and social gatherings
• Lift services to all floors
• Garden for outdoor strolls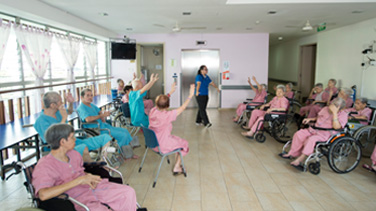 Pacific Healthcare Nursing Home

 6 Lengkok Bahru Singapore 159051


 Tel: +65 6272 3133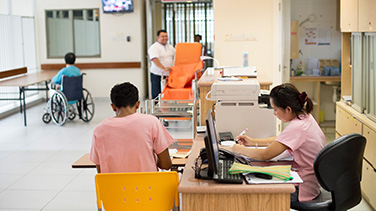 Pacific Healthcare Nursing Home II

 21 Senja Road Singapore 677736


 Tel: +65 6766 2722