Dr Yeo Chong Jin
MBChB (Glasgow), MRCS (Glasgow), MMed (Surgery), FAMS (Hand Surgery)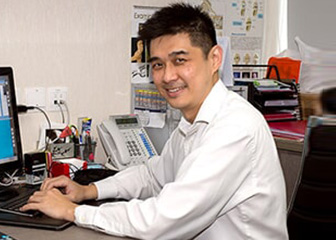 Pacific Hand Surgery
290 Orchard Road #12-01
Singapore 238859
Tel: (65) 6510 1989
Fax: (65) 6883 6967
Email: enquiry@pachealthholdings.com
Dr Yeo graduated from University of Glasgow, UK with his basic medical degree (MBChB) in 2001 and continued his post graduate basic surgical training in the UK and returned to Singapore in 2006. He went on to obtain his higher surgical qualifications (MRCS, M.Med) and was accredited by the Ministry of Health (Singapore) as a Hand Surgeon in 2012.
He was awarded the Higher Manpower Development Program for 2012 and completed his fellowship in Adelaide, South Australia with Professor Gregory Bain who is a world renowned upper limb specialist dealing with tertiary referrals from around Australia and region for complex shoulder, elbow and wrist disorders.
He has been working in Tan Tock Seng Hospital (TTSH) since 2008, and served as Chief of the Hand & Microsurgery Section there from 2013-2015. He continues as a visiting consultant in TTSH and is actively involved in the training of the junior surgeons and residents.
Dr Yeo's clinical interest include treatment of all hand and wrist trauma and fractures, replantations and reconstructive microsurgery. He has a special interest in minimally invasive surgery for the hand & wrist problems, including wrist arthroscopy, arthroscopic assisted surgery, percutaneous fixation and endoscopic peripheral nerve surgery. He also manages sports related injuries of the wrist and hand.
Dr Yeo was a senior clinical lecturer during his tenure in TTSH and was involved in undergraduate and postgraduate teaching. He was also the fellowship director for hand surgery in TTSH. He sits on the Examination Subcommittee for Hand Surgery Residency Program, and is an EXCO member of the Singapore Society for Hand Surgery.
He continues his research work and publication of articles and book chapters with Prof Greg Bain on the rare wrist condition known as Kienböck disease. Dr Yeo has also contributed a book chapter on lower limb flap in Grabb's Encyclopedia of Flaps.
His other interests include basketball, rugby, waterpolo and pilates.
Specialties
Hand Surgery
24 hr Emergency Care for Hand Injuries
Our team of hand surgeons are rostered to be available to tend to any acute injuries of the hand and wrist. These will range from relatively minor crush injury of the fingertips to more complex wounds affecting underlying tendons , nerves and arteries, to complete amputations of limbs. We are equipped to perform replantation surgery round the clock.
Immediate Hand Surgery Care
Many of the trauma to the upper limb require urgent attention. Early reduction of finger and wrist fractures minimizes pain and deformity. Early attention to hand infections will minimize tissue loss and preserve function. You will be able to see a hand surgeon in Hand Surgery Associates (HSA) on short notice as we understand the urgent nature of hand conditions.
Comprehensive Hand Surgery Care
The complete range of treatment options for hand conditions is available at Hand Surgery Associates. Kindly refer to our section under symptoms for the specific conditions. Our treatment process always starts with a detailed history and clinical examination before our hand surgeons will recommend individualized treatment for each patient. Many of the hand conditions are treated conservatively with activity modification, therapy or medication. Surgery can be the best option for some instances and our aim is to help you understand your diagnosis and achieve the best outcome.
This important aspect of hand surgery involves guided mobilization for hand surgery patients and the use of protective splints for rehabilitation. Our hand surgeons look after the rehabilitation of their patients and you will be referred to therapists when required.
Prosthesis complete the range of expertise a hand surgery service will provide. They improve the body image of the patients with deformities.